Description
---
RECORDED TRAINING COURSE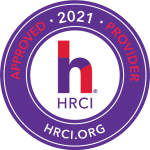 1.5 CEU HRCI |  1.5 PDC SHRM APPROVED
---
FDA Issues Emergency Use Authorization for COVID-19 Vaccine. They are –slowly—being rolled With that roll-out, employers are faced with many questions about how to handle vaccine-related issues in the workplace. Specifically: how will COVID vaccines impact the workplace? Can—or should—employers require employees to get vaccinated? What are the legal ramifications? This webinar will answer that and other questions abounding as the world continues to battle the COVID-19 pandemic.
SESSION HIGHLIGHTS:
Do I need a vaccination policy? And can my company be liable for not requiring vaccination?

Is this an employer's responsibility or is it the responsibility of individual employees who wish to receive the COVID-19 vaccine?

Can we require our employees to be vaccinated? And can employees be terminated for refusing the vaccination?

What are the already-existing legal and regulatory limitations for EEOC, OSHA, and HIPAA that we can consider now?

Does the vaccine mean that we no longer need to enforce masks and social distancing in the workplace?
Why Should You Attend:
In this webinar, we will cover the legal implications of requiring employees to receive a COVID-19 vaccine. We will discuss when and how an employer can legally require workers to get vaccinated, and when employers cannot do so, and the reasons. We will also explore alternatives to requiring vaccinations and how employers can fulfill their legal obligations to keep their workers, and, when applicable, the public, safe.
Who

Should

Attend:
HR managers

HR Directors

Department heads and supervisors

Owners and managers of small businesses

HR professionals

Managers

Supervisors

HR Administrators

Compliance Professionals

Senior Managers;

CEO's

Leave Administrators;

In-House Counsel

Safety Officers
During the Q&A session following the live event, ask a question, and get a direct response from our expert speaker.
**Recorded Version: Unlimited viewing for 365 days ( Access information will be emailed 36 hours after the completion of live webinar).