Description
---
RECORDED TRAINING COURSE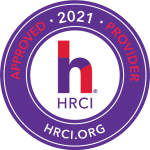 1.5 CEU HRCI |  1.5 PDC SHRM APPROVED
---
2021 workplace goals when it comes to COVID-19 has shifted with the increase of impact for Employers when it comes to testing, vaccination and litigation. OSHA in 2020 provided guidance to Employers to open the workplace safely. However, guidance is not enforcement and many companies had no consequence if they did not follow the guidance. These inconsistencies put Employers and employees at risk for contracting COVID-19. 2021 has changed the focus to have OSHA be the enforcement on the safety and health factors to have employees return to work safely and provide the necessary direction for them. The new administration has increased their compliance efforts to ensure that OSHA is overseeing the violations of regulations in the workplace and increased fines and penalties.
SESSION HIGHLIGHTS:
How did the OSHA guidance in 2020 meet or not meet the needs for Employers when it came to COVID-19

What was the impact of testing in the workplace?

How has the new Administration changed the paradigm in OSHA and how they mitigate COVID-19 in the workplace

What COVID-Recording requirements have changed in 2021

Understand how to make work-relatedness determinations for COVID-19 cases according to OSHA's latest guidance

What is the best compliance practices when it comes to preparing the workplace safely during COVID-19

Learn how safety committees are great option during COVID-19

What are the new penalties and enforcement efforts by OSHA under the new Administration

What are the most effective way that Employers can communicate changes to employees and stakeholders to provide confidence

Learn how vaccination in the workplace poses challenges for Employers and professionals by the EEOC, the ADA and OSHA
WHY YOU SHOULD ATTEND:
The Biden administration had ordered OSHA to issued a mandatory temporary emergency standard by mid-March 2021. Now, you need to ensure that you have taken all the steps necessary to ensure compliance with the recently issued OSHA COVID-19 standards. This guidance differs significantly from the previous direction.
WHO SHOULD ATTEND:
All Employers

Business Owners

Company Leadership

Compliance professionals

Facilities Managers

HR Professionals

Safety Managers and Safety Committees

Office Managers

Managers/Supervisors

Employers in all industries

Small Business Owners

Large Business Owners
Ask your question directly from our expert during the Q&A session following the live event.
**Recorded Version: Unlimited viewing for 365 days ( Access information will be emailed 36 hours after the completion of live webinar).