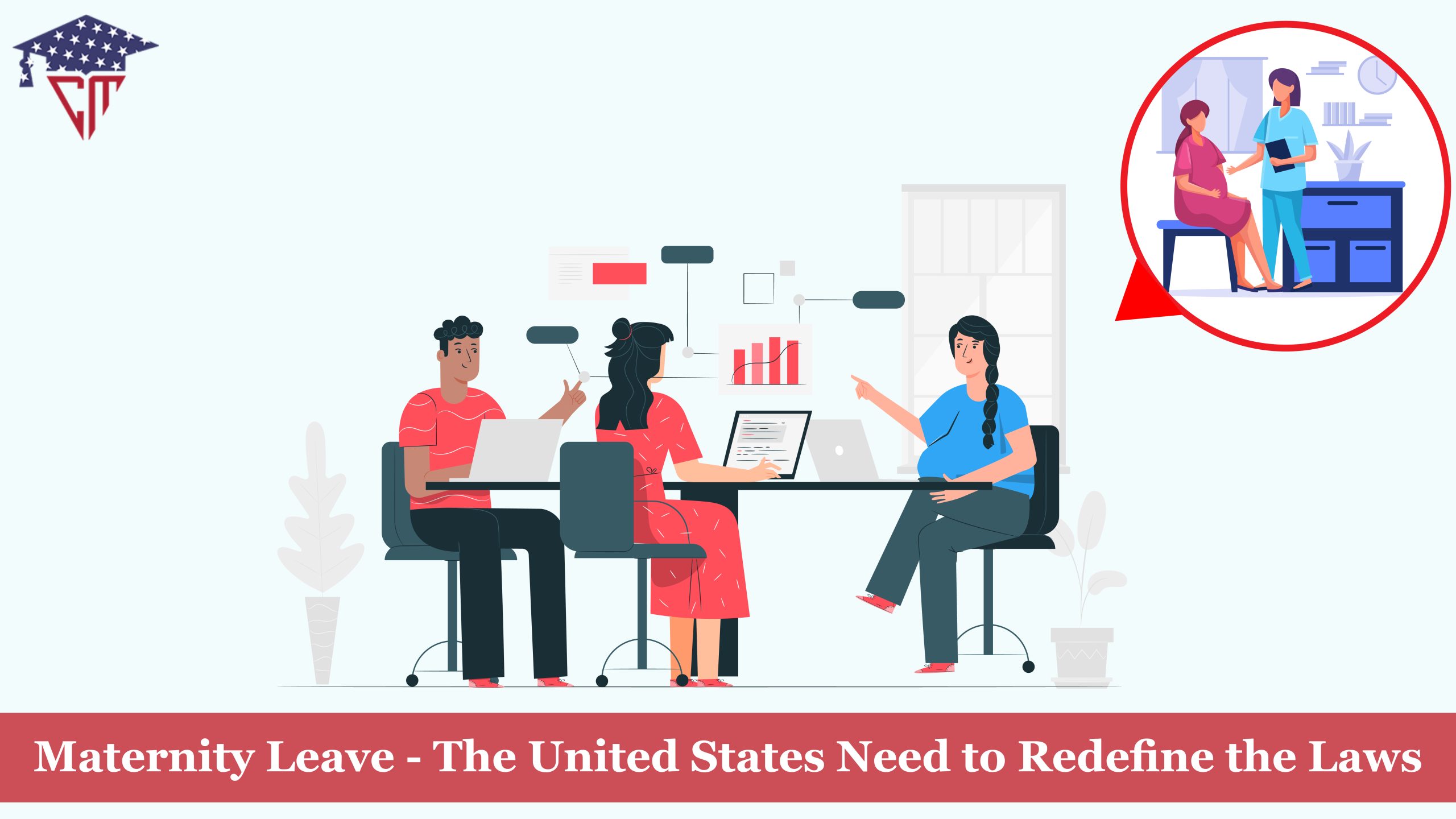 Motherhood is a fledged phase for every woman. Considering the physical facet, which is quite evident in the eye of people around them. Their health and physiological functioning take a huge toll in order to bear another life. Not only physiological hardships but the emotional and psychological aspects do also transform them. The process of settling in with the upcoming change is elucidative. Women go through a lot that cannot be counted in words. The experience is fruitful yet heart-bearing. Women who work go through the same plus the usually expected workload they deal with as a part of their job profile. Sick leaves, maternity leaves, or routine checkup leaves are the events where organizations are expected to reflect a lenient and empath attitude towards their employees. Working women always struggle between personal life events and work commitments. Something that tends to occur naturally at a certain stage puts all their work paradigm at stake.
A few days back, the USA firmed a debate on abortion rights. This debate sparked a critical discussion around multiple humanitarian and feministic social schools. Massive marches and public demonstrations took place in support of or against the law. It all started when the federal government bombarded states with a decision to settle their respective take on abortion rights, whether it should be legalized or not. This movement raises the need for spoken questions to be asked about the existential value of women over their bodies, decisions, and representations. Along with abortion rights, the question of the status of maternal leave in the USA arises.
Regarding maternity and paternity leave, the USA has no nationwide mandated laws. In the USA, maternal leave applies to women employees and workers who tend to be expecting a child. This period of leave is allotted to employees for recovery and rehabilitation purposes. Pregnancy is an intensive phase, ranging for more than half a year. It takes an excruciating toll on women's physiological functioning.
Due to FMLA, 12 weeks of unpaid leave is provided to pregnant female employees. The FMLA regulation only applies to businesses with more than 50 employees. These 12-week unpaid leaves include the employees' birthing process, nurturing process, and post-pregnancy bonding care period. Only FMLA is a widely mandated act that ensures a 12-week unpaid time off. Companies and individual states can have varied pay aspects. According to FMLA, employees should receive health insurance benefits, even if it accounts for short-term disability leave. Fathers or non-birthing parents are also eligible for leave under FMLA. Yet due to this aspect, the act has been criticized widely. The maternity rights of an employee come into active effect post their respective doctor's recommendation to not continue working.
The Pregnancy Discrimination Act of 1978 applies to companies with a configuration of more than 15 employees and prohibits at-work biases and discrimination, and facilitates the same rights as other employees. Employers are required to stay compliant with prominent guidelines. An employer cannot fire an employee due to pregnancy or cannot force you to take mandatory maternity leave. An employee must be granted healthcare benefits and sick leaves like any other employee with a medical condition. Employees should be given alternate takes, and altered assignments depending on the company's policy and take on the motion. The sect of when or whether to take a leave depends on an employee's will; they can work as long as they want to. This act safeguards employees with a job security pact. While on leave, employees are granted continued effect of on-job benefits such as pay increases. Hence, this act safeguards employees from workplace discrimination due to their pregnancy. Efficient distribution of the workforce is also prominent while dealing with pregnant employees. Hence, employers and managers should accommodate the set of tasks and assignments of the employee so that their medical condition doesn't take an extreme toll.
Only a handful of federal states have designated pay mandates for pregnant employees and workers. Have a look at the chart given below to learn more:
| | |
| --- | --- |
| Federal  States  | Pay Mandate for Pregnant Employees  |
| California | residents of the state are offered an additional 12 weeks' leave on top of the 12-week requirement. 8 out of the 12-week requirement is paid. |
| Colorado | under the Family and Medical Leave Insurance plan, pregnant employees will be able to get up to 12 weeks off from 2024. Currently, they offer 12 weeks of unpaid time off. |
| Massachusetts | renowned policy for new parents. 12 weeks of paid time off for the birth, adoption, and foster placement of a child. |
| Rhode Island | has 13 weeks of unpaid time off yet a mother applying for temporary disability can get 5 weeks off for the bonding and nurturing phase. |
| Washington | employees who have worked for 820+ hours are eligible and can apply for paid leave referring to the state's new legislation. |
| Connecticut | offers both paid and unpaid leave insurance. Since 2022, mothers can benefit from Connecticut Family and Medical Leave and can also apply for CT Paid Leaves appeal to cover up to 12 weeks of paid time off from work due to the birth. |
| New Jersey | the Family and Medical Leave Insurance program allows parents to take 12 weeks of paid time off for bonding purposes with their child. |
| Oregon | has separate laws for employees with 25+ stren configuration at companies, the only criteria is the employees have to b worked for +180 days at a company.  |
| New York | allows birthing and adoptive parents to take up to 12 weeks of paid leave with 67% of the pay rate. |
Is there an act or regulation for part-time pregnant employees? Apparently, but that differs considering multiple aspects. Factors like the time you have invested in a particular company and the strength configuration matter effectively. If an employee has worked more than 24 hours every week for over a year, then that employee is eligible for the same benefits as full-time employees. Moreover, no federal law exists for contract workers, yet companies and employees can agree on this issue. Post exhausting accrued leaves, employees are suggestively relied on to opt for Temporary Disability Insurance to curb with the balancing their respective time to bear parent duties like bonding period, routine medical checkups, etcetera. Short or long-term disability benefits for pregnant employees vary state by state, ranging from 50 to 100 percent of pay in the time taken off.
FMLA enables employees to join jobs with identical benefits, positions, and perks as before pregnancy. FMLA embeds a lenient proceeding structure for new parents and suggestively paves a supportive path to raising a child. Also, it is legally feasible to provide lactating mothers with subordinate space to express milk for their child, as per Federal Break Time for Nursing Mothers Law. According to the International Labor Organization, the status of maternity leave is quite uneven regarding aggregate comparison. Collectively 119 countries satisfy the ILO's parameter of standard maternity. Of them, 62 provide maternity leave of +14 weeks, whilst 31 countries provide less than 12 weeks. The standards of maternity leave sect vary widely depending on the particular territory's demographic and work culture perspective. In the name of employment protection, discrimination against pregnant employees is prohibited only in companies or businesses with more than 15 employees.
Taking everything into account, rights supporting pregnancy are not an active motion around people. The influence of debate around abortion rights raised the need to have a significantly set o regulations concerning pregnancy-related aspects like maternity leave, efficient workforce distribution for pregnant employees and workers, and parental leave. And the legitimate discussion around crucial laws Pregnancy Discrimination Act 1978 and the Family & Medical Leave Act, safeguarding pregnant employees from at-work discrimination. Additional aspects like temporary disability insurance and medical benefits play a key role in reliably assisting employees dealing with pregnancy. The laws and regulations are designed to offer mothers or parents of newborns a quality nurturing phase with their respective children.