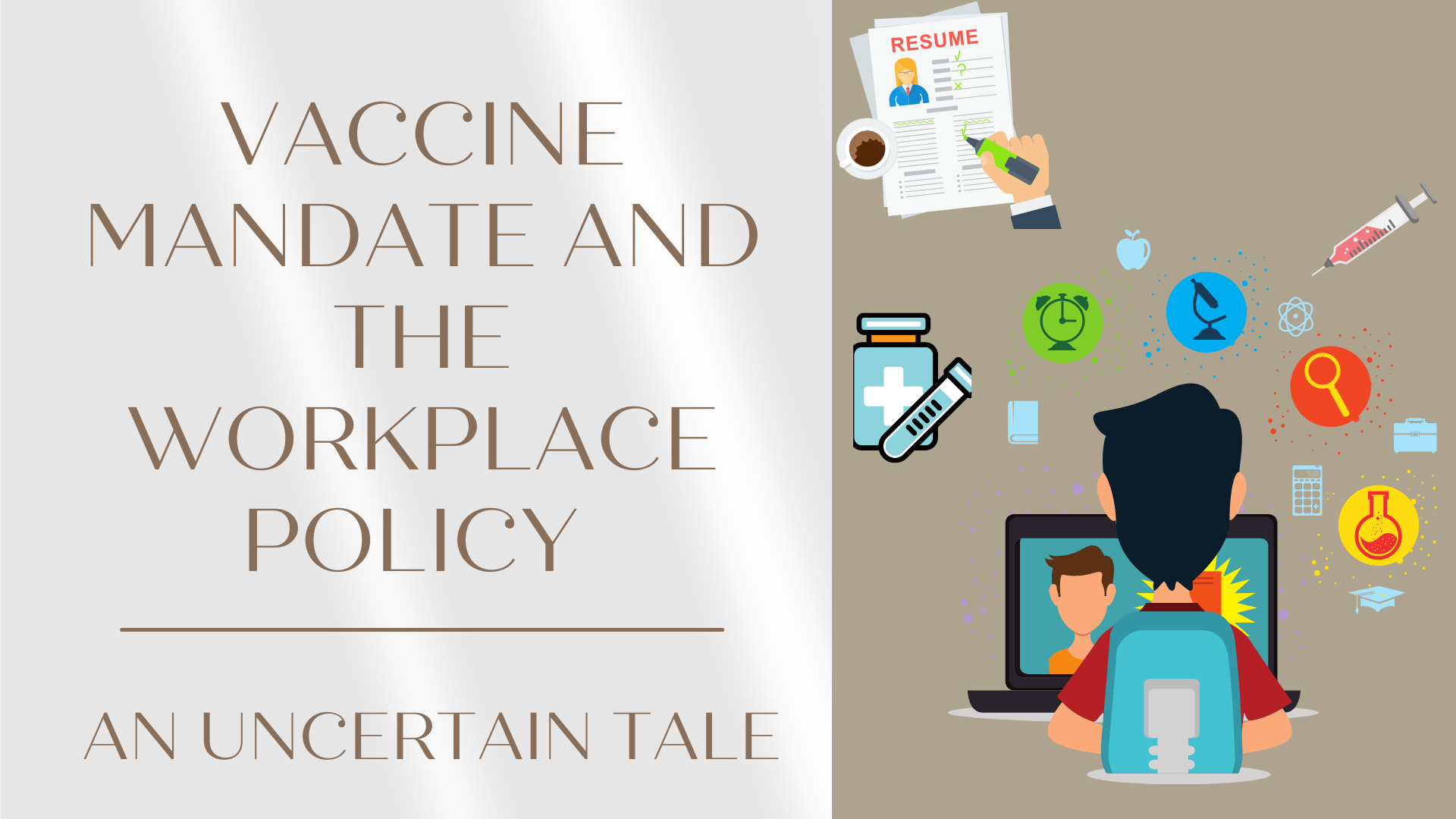 President Joe Biden announced a plan on September 9, 2021, which requires all Private employers with 100 or more employees to mandate covid-19 vaccination or produce, negative results on a weekly basis against covid-19, in the workplace. He also stated that federal workers, as well as contractors, must inoculate against covid-19 without having the alteration of weekly tests. Now you can think how the declaration can create a river of a hodgepodge for the talent acquisition department as well as for HR recruiters. Employers are approaching different ways of hiring with the vaccine mandates. However, we know that it's easier said but tougher done. It's getting harder for many companies who are already struggling with employee retention now vaccine mandate is exacerbating the whole condition. And here is the great resignation of 2021, which, in this time, more or less work like an added salt to injury. So, what employers can do to retain the talent, to hire the skillful, learned, intellectuals, of the specific fields? But before diving on the topic. Let's discuss the November 4, event.
On November 4, 2021, The Occupational Safety and Health Administration, issued an emergency temporary standard to protect unvaccinated employees of large employers from the risk of contracting covid-19. It mentioned that all the private companies with 100 or more employees must get fully vaccinated by January 4, 2022. The requirement also emphasizes that employers must provide paid time off for the vaccination and paid sick leave if the employee is recovering from the side effects after getting the dose. Anyone who doesn't want to get vaccinated must produce negative results on the weekly basis. They also have to wear masks while on the job. Most corporation like Google, Facebook, Ford, General Electric, Goldman Sachs, McDonald's, Equinox, Jefferies, and Amtrak has already been outspoken about their vaccination plan. And many companies were already pondering over mandating the covid-19 vaccination policy.  (Almost 47% according to a survey done by Gartner, published on its website on September 24, 2021.)
However, we all are also aware of the fact that OSHA's mandate regarding the vaccine has been challenged multiple times, and in multiple courts. Religious organizations, private businesses, traders, and states have filed a petition against the OSHA; broaching that the rule is an encroachment of government authority.
Yet, the Biden administration is asking organizations to keep their workplace fully vaccinated.
Now come to the point: As there are many arguments, ongoing with regard to the vaccine policy. And various individuals and organizations put forth the reason what's right and what's an outmaneuvering. I think we are digressing from our way. Our focus must not be vague and muzzy in all this buzz. It's not about mandating a rule and fighting against it. It's all about public health. We have to find ways to educate them, to encourage them, to inform them that how their lives are indeed important to the future of the nation. To the future of America. We are indeed terrified by what we have seen in the last years we don't want to lose them. No matter which path we choose or which strategy we restore to – but just remember what's the focal point.  
Inform them about the organization's vaccination Policy: Before mandating a vaccine policy you must ensure a recruiting policy and make an effort to associate some part of the previous policy to the recruiting policy. So, the interviewee will receive the palpable hint that the covid-19 status is really one of the significant requirements of the job given the current circumstances. Employers can also restore to incentive programs that work really well. Let your interviewee know that why the vaccination is mandatory for their employee's well-being as well as how the shot is life-saving. Inform them about the research that shows the effectiveness of the covid-19 vaccine.
Don't trick just treat them: It's my quite personal point of view, there is an ongoing buzz of firing people who don't want to get the jab. However, I think before firing them slightly change the way you think of their decision and opinions. Maybe they are afraid. Maybe they have some medical condition. Some religious believes or something else. Just ask them why they don't want to get the jab. What's the reason behind it? Educate them, if they are afraid then share your personal experience with them. How afraid you are before taking the jab. Educate them about the vaccine and about its benefits. Tell them that their decision, not to get the jab, can endanger many individuals' life.
And last but not least. As an employer let them know that you don't want to lose a precious employee like them and firing an employee is not something that employers cherish especially in the time like the great resignation 2021.